In our modern and busy world, we face a variety of health risks. Hillary's Health utilizes an array of contemporary integrative methods to help restore your mind and body, allowing them to heal naturally and better cope with the stress of daily life.
HORMONE BALANCE
Dr. Hillary believes in a natural approach to menopause that is focused on your individual menopause experience. She bases her treatment plan on your health history, current test results, and your symptom picture. Follow up visits assure that all your questions and concerns are addressed and your treatment plan optimized. Dr. Hillary has found this individualized approach to be highly successful.
Menopause isn't only about managing the typical symptoms (hot flashes, insomnia, mood swings, diminished libido). It's also about considering the risks those symptoms suggest may be present in the areas of cardiovascular and nervous systems and bone health. If hormone replacement is recommended for you, Dr. Hillary uses only bio-identical hormones, which are safe and effective for symptom and risk management. Bio-identical hormones reduce menopausal symptoms such as:
HOT FLASHES
POOR SLEEP
VAGINAL DRYNESS
DECREASED LIBIDO
MOOD SWINGS
BRAIN FOG/COGNITIVE DECLINE
OSTEOPOROSIS
Hormones are like the key in our ignition. When correctly balanced, they provide the impetus to keep all aspects of our metabolism as they should be. They are important at every stage of life from our youth to well into old age.
Dr. Hillary is fully certified to treat menopause using Bio-identical Hormones through WorldLink Medical – The Academy of Preventive and Integrative Medicine. Check the website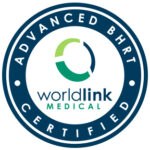 www.simplehormones.com/hillaryshealth/ for more information on Bio-identical Hormone Therapy.
A NATURAL APPROACH
As a licensed Naturopath, Dr. Hillary will explore the many physical, mental and environmental factors affecting your overall health and wellness to create a personalized health-care plan based on your individual needs. Diagnostic methods may include testing to check blood sugar, hormone balance, thyroid function, cardiovascular risk and many other areas.
Following a thorough profile of your medical history and diagnostic assessment, you will be provided with a specific plan for meeting your health objectives including both natural and conventional treatments if necessary.